Virtual Teams are Now, Everywhere, and Everyone is on One! Lead them Well!
The Covid-19 crisis is changing everything… what we do in our spare time, our relationships, and how we do our work. It seems that almost everyone is working from home and many our struggling with the difficulties associated with virtual work and virtual team meetings.
I would love it if you would share some of your own experiences, challenges and tips for others. Email them two me at LMMiller@lmmiller.com and I will share them with others.
About two years ago I developed and published a course on Udemy presenting the critical skills of leading successful virtual team meetings. Instantly, so it seems, it is one of my best selling courses. This post is a reminder that it is there and you may find it useful now more than ever.
The issue of how best to manage virtual teams has become a significant issue for many organizations. It was one of the topics that Udemy for Business customers indicated was a high priority. You may have received a request to participate in an online survey on your experience with virtual teams a couple months back. I promised to share the results of that survey and I have developed an online course to train managers and facilitators to manage virtual or dispersed teams.
Here is a coupon for the Leading Virtual Teams.
You can see the complete results of the survey here: Virtual Team Survey
Here are some of the highlights from the survey:
The survey asked "What one piece of advice do you have for others leading virtual teams?"
Make sure the team has a clear charter.
The agenda is key
Send agenda, send reminders, send action plans before and after meetings.
Rotate facilitation
Ensure engagement and ownership of tasks
Pause and wait for others to respond
Spell out the guidelines and enforce them
Distinguish between "review/update" meetings vs. "problem solving."
Be as inclusive as possible.
Make sure you can SEE each other.
Keep and publish attendance record.
Somewhat to my surprise, those responding indicated that the technology was more problematic than the behavior of members.
I also asked about the software they were using and how satisfied they were with that software. The software that received the highest satisfaction was Zoom.
By far the biggest problem reported by those leading virtual meetings is simply keeping participants focused and engaged, rather than multi-tasking and distracted. In my course I recommend a number of strategies to maintain engagement of those participating in virtual team meetings.
"Also make it clear that multitasking on calls isn't OK. According to a recent study,82% of people admit to doing other things—from surfing the web to using the bathroom—during team calls. But virtual collaboration requires that everyone be mentally present and engaged. Explain your policy, and when the group has a virtual meeting, regularly call on people to share their thoughts. Better yet, switch to video, which can essentially eliminate multitasking." HBR Dec 2014
Many of the issues faced by leaders of virtual teams are the same as those facilitating in-person meetings. I have tried to address the key facilitaton skills that apply to both virtual and non-virtual meetings in my online course.
"Of 1,700 knowledge workers surveyed, 79% reported working always or frequently in dispersed teams. Armed with laptops, Wi-Fi, and mobile phones, most professionals can do their jobs from anywhere." Harvard Business Review, Dec 2014
Here are some additional references that you may find helpful.
As I reflect on my own life and on human history with each crisis, each time I felt doom, or the world faced an apparent apocalypse there was an opportunity to be seized. Leadership is recognizing a challenge and responding creatively to that challenge.
With daily reports of the spread of the Covid-19 virus, cancelation of conferences, closing of schools and corporate travel restrictions it is time to think creatively about how to respond to the crisis. Within every crisis is the challenge of creativity, to try out new ways of thinking and getting the job done.
Most corporations are now cancelling gatherings of managers and employees for training and development. But that should not halt learning and development. Rather, it should force new ways of thinking about how we learn and develop our employees. We may discover more efficient and more effective ways of getting the job done.
I am not without bias. With sixteen online courses that can all be viewed from home or the workplace 24/7, I can't help but think that this is a time when corporations should employ online courses to the maximum benefit.
But how can a company make the most of remote online learning during this crisis? Here are some suggestions:
First, don't promote a scattered approach in which you say, "Here's a catalog of courses, go take what you want." That sounds too much like "we don't have any plan, so make up your own." Far better to have a change strategy and assign courses that contribute to that strategy. If you are pursuing lean culture than assign a course on that topic.
Employ a "blended learning" model that does not simply rely on watching videos or reading books, but combines knowledge acquisition, action-learning, group reflection and accountability. Let's break that down.
1. Make it an Assignment: Let me assume you are pursuing lean management, eliminating waste and engaging all employees. My course TEAM KATA: Lean Leadership Skills for High Performing Teams is designed with that intention. Assign all the managers in a business unit to take that course over the next two months. Do not make it optional, a suggestion, or a nice thing to do. Explain that we are going to take this time to focus on developing the capacity of all of our teams to improve processes and eliminate waste. Let's all do it together. There is power in group action. Be sure that the leadership teams in the organization are taking the same course and modeling the same behavior. 
2. Structured Reflection and Action: Create a structure of study circles. If you have fifty managers in an organization create eight to ten groups who can go through the course together, and section by section, once a week meet to reflect on how they are applying their knowledge to their team. Sharing is critical to internalizing new habits. A good course presents assignments that are designed to turn knowledge into action in the workplace. By participating in a small group that shares the challenge of implementing the lessons, there is an inherent accountability. Learning often occurs from one's peers who are discovering how best to develop a team scorecard, create standard work, emply process maps or problem solving. 
3. Assign Team Coaches: You do not have to be a credentialed, certified coach to help others. Within every organization there is someone who can be selected to provide feedback, encouragement, and share knowledge and experience across teams. If you know that a coach is going to visit your team and observe your team meeting, and who then gives the leader feedback on how she facilitated the team, it is a strong encouragement to both learn and act.
4. Recognize and Celebrate Effort: At the outset of this structured learning process, make it clear that there are consequences for going through the course and for applying the knowledge to the workplace. What is the "so-what?" of the effort to go through the course and make the effort, sometimes succeeding and sometimes failing. One answer is to create a "belt" recognition within your company. You can award yellow, blue, whatever color belts for completing the course and for achieving results through action. Do not award recognition for simply watching videos. Award some symbol of recognition for action – behavior and performance.
 Whether or not you are using my courses or someone else's, these four components are essential to maximizing the value of remote learning. Of course, it is still beneficial to gather managers together for experiential learning, shared experience and listen to brilliant speakers. But the current crisis calls on all learning and development managers to experiment with improved methods of remote learning.
Remote or online learning is most effective when combined with coaching, action assignments and recognition. This is "blended learning."
The following is an example of course section from my Team Kata course, the Team Tasks, and the related Coaching Questions to develop the "kata" of high performing teams. Please click on the images to enlarge.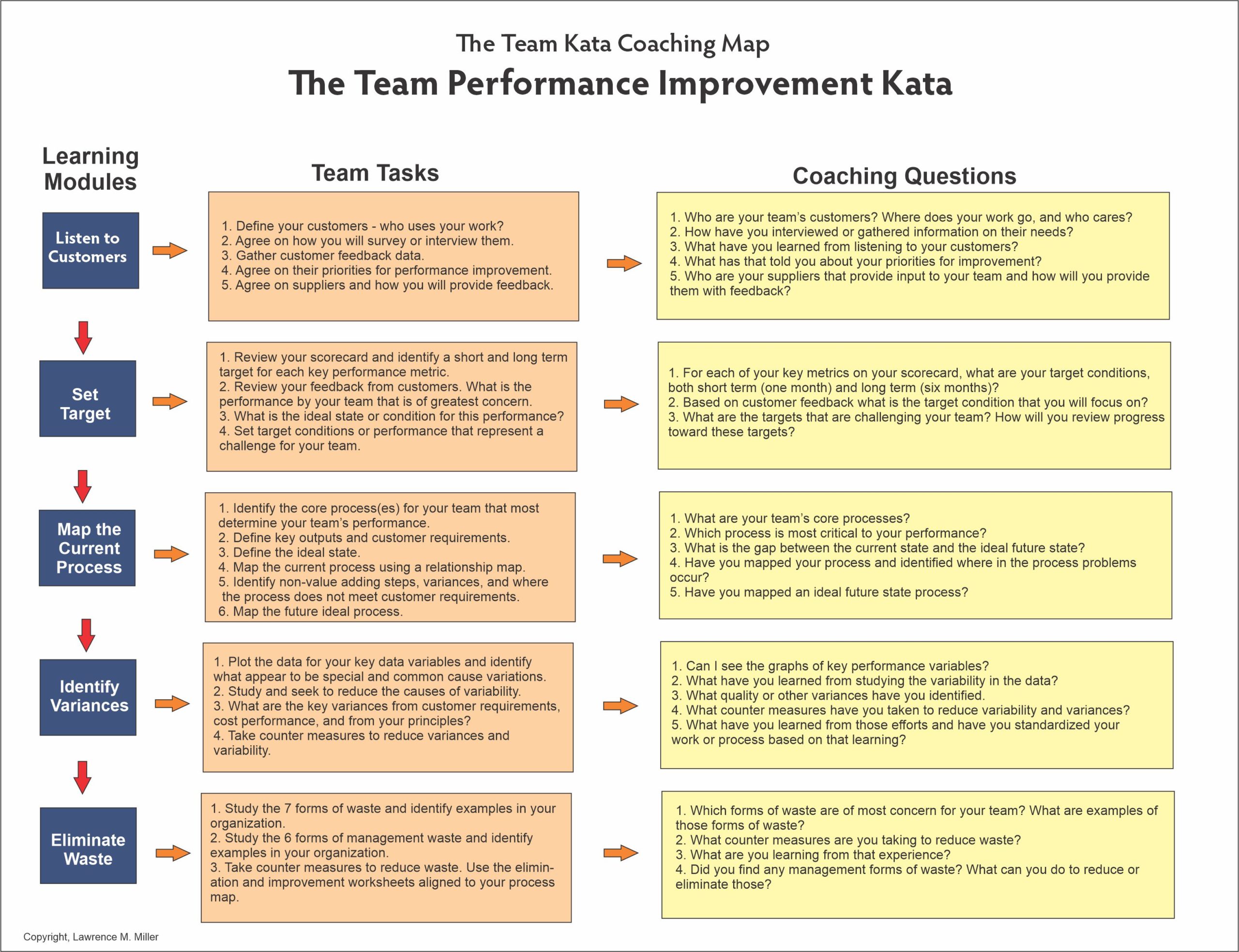 You may have seen the following chart which defines the sections of my Team Kata course on one axis and the completion of action-learning assignments on the other. By completing both you move from lower left to upper right. At some point near the top you can say that a team, and its leader, have achieved the status of a high performing team and the award of Green Belt for that achievement. For an organization, what percent of the managers and teams have achieved this status? That again is another way of creating accountability and recognition.