Periodically I review my online courses to search for ways they can be improved. I recently made some improvements to the first course I created, Team Leadership, and as I was working on it I was reminded that this course is really about a system of knowledge, of systemic learning, that is lacking in most companies.
Having worked for more than forty years with companies like Honda, Shell Oil, Merck, Corning and others, trying to build a culture of teamwork, empowerment, and lean processes, I have observed a few key reasons for successful or failed change.
As you consider your plans for the New Year, consider designing your lean efforts with the following components of a system of learning:
Lead! Adopt a Philosophy of Shared Practice, Language and Skills:
It was a long time ago, back in the 1970's while working in textile mills in the South that my associates and I realized you could not simply train first level supervisors and expect them to change their method of dealing with employees. We tried to teach them to focus on data, to engage employees as a team in keeping score and problem solving, and to employ positive reinforcement rather than punishment. We soon realized that they would try to make this change, but their own managers above, had been promoted because they had used the very negative management style we were trying to change. They soon reverted to the behavior of their leaders.
It wasn't until we went to the CEO or business unit head and said that "you must BE the change, you must lead!" that we began to achieve permanent and lasting change. For many years, when selling our services to major corporations, I challenged the CEO to be the change, to go through the same training and do the same action steps that we were going to ask of every other manager. I challenged them to lead! They always agreed. I did sometimes need to remind them of their commitment.
More than once I have observed that the effectiveness of teams, the ability to use problem solving methods and tools, is better at lower levels and worse above. I have coached senior management teams going through the Team Leadership course to do the exact same things as first level teams – define their scorecard, graph their performance, use the PDCA or A3 methodology, define leader standard work, and map their processes. By doing these things they both gain understanding of their value, and they model the behavior for those below. Do it at every level…together! Unity of practice is powerful.
2. Manage the Change – Institute Accountability and Motivation for Lean Practices:
I do not know why it is, but when it comes to changing the culture, managers seem to abandon every good management practice. They imagine that the culture is too complex to apply objectives, measurement and accountability. They are wrong.
I think one of the most useful things I have ever developed is this simple spreadsheet and graphic (at the top) that defines both training modules and the "deliverables", the action-learning steps that are associated with each module. It is downloadable within the Team Leadership course. One axis defines the learning modules, the knowledge. The other axis defines the "deliverables" action steps. Knowledge, plus action, plus feedback equals sustained change.
As you progress through the course you fill in the arrows that correspond to each module completed and each corresponding practice that you have implemented. This gives a quick visual representation of the progress you are making. I have visited clients and walked through the offices and production area and seen this printed out and posted on bulletin boards for each team, including the senior management team! You can quickly see the progress, or the absence of progress. It is accountability, feedback and reinforcement.
When your team reaches the upper right on the chart you have achieved the status of a High Performing Team.
Why is it that every athlete, from the child in Little League to Tom Brady or Roger Federer, has a coach, but we in management feel that we are somehow above the need for a coach.
Provide Coaching for Every Team and Leader:
We know how new habits develop. It is not a mystery. Knowledge, motivation, practice, and feedback. It is the design of the Team Leadership course to provide the knowledge of team leadership and the functioning of high performing teams. But there must also be the motivation (accountability and reinforcement), as well as direct coaching and feedback.
Over the many dozens of clients who I have helped to develop a system of teams from top to bottom, we have trained and developed internal coaches, drawn from the ranks of line managers and employees, to provide coaching to all teams and all team leaders. This has been successful at creating a lasting change in the habits of both leaders and teams.
In my latest changes to my Team Leadership course I have included both my Team Kata book and my Lean Coach book to assist with the development of the internal coaching process. The following maps illustrate the sections of the Team Leadership course, the action learning assignments, and the coaching questions that a coach might ask the team leader or the entire team. If this discipline is followed, it is certain to significantly improve the functioning of every team and their ability to improve performance.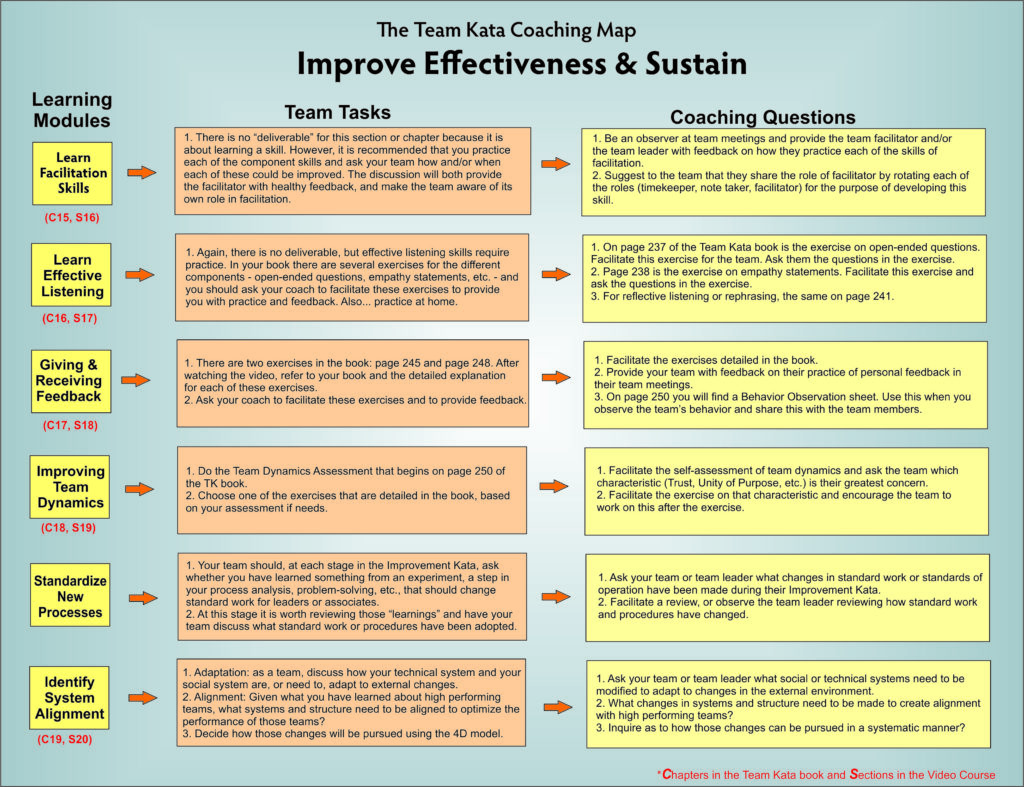 Constancy of Purpose:
As you may know, this was one of Dr. Demings' favorite phrases and one of his 14 points. Leading a change in culture is hard. Unfortunately, we have created a corporate culture in too many organizations that rewards and demands short term success. We move managers from one business unit to another, with just enough time to make proclamations and promote slogans, but not enough time to institute lasting change in the culture. We need a system that rewards managers for business improvement over time – five to ten years – so they can experience the results of their improvements.
Cultures do change and will change, the only question is whether we give that change direction, thoughtful and systematic leadership.