Elon Musk, the CEO of Tesla, is undeniably one of the great entreprenuers of our age and is rightfully in the same league as Steve Jobs, Jeff Bezos, Mark Zuckerberg and others. He is a pioneer in solar energy, launching rockets into space and returning them in a remarkable display of engineering,  and is set on upending the automotive business with this all electric Teslas. Recently, however, he has been struggling to meet production goals for his mass market Model 3. This may turn out to be a significant lesson in corporate culture and leadership.
Elon Musk has a vision of a highly automated factory, dominated by robots and artificial intelligence, reducing to near zero the human factor. He believes that his vision of the factory will be his competitive advantage. Musk took over the manufacturing plant that had been NUMMI, the joint venture between GM and Toyota and was the great experiment in taking an older unionized workforce and transforming them into the most productive auto assembly plant in the United States. It proved the application of lean manufacturing in the United States and that it was not dependent on a Japanese workforce or a workforce that was indoctrinated in a greenfield operation. But, Musk has essentially tossed aside the lessons of NUMMI in his belief that he has a superior idea. He recently said…
"The competitive strength of Tesla long-term is not going to be the car: It's going to be the factory. We are going to productize the factory…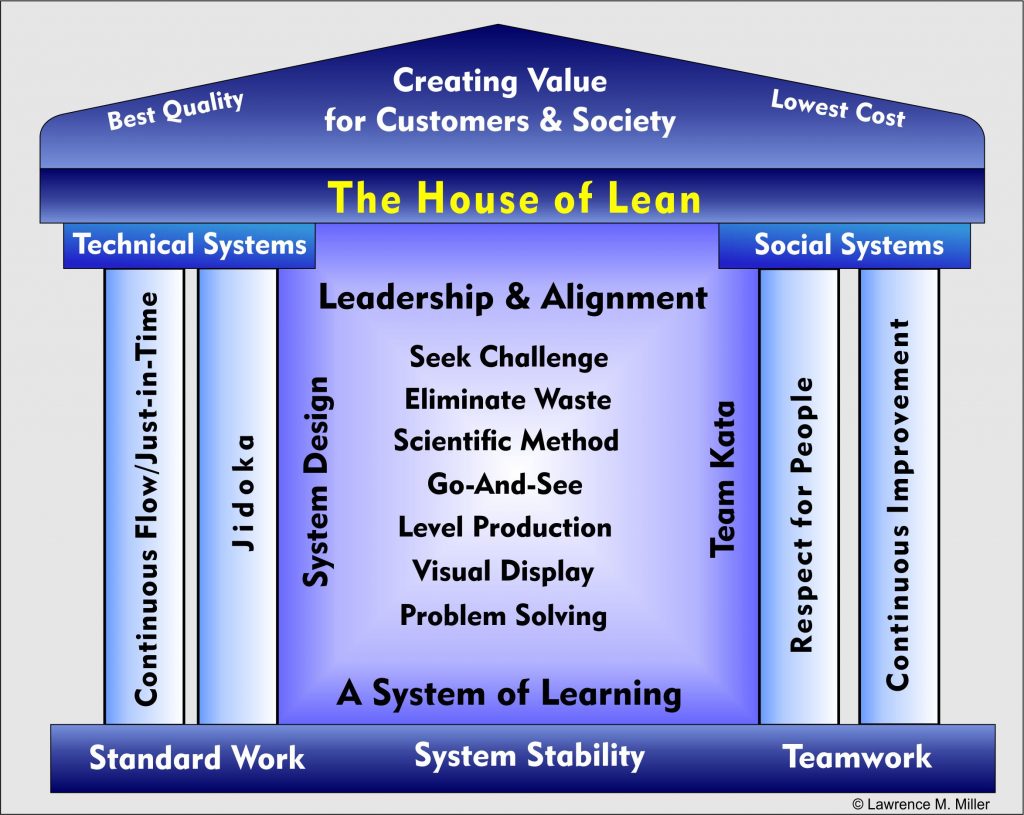 I am, of course, biased. Virtually all of my consulting and training, particularly my new Lean Leadership and Lean Culture course, are all about the human side of lean management which is entirely derived from the lessons of Toyota. My "House of Lean" is designed to reflect the belief that successful organizations are about equal parts technical systems and social systems. The core lean principles of Respect for People and Continuous Improvement are all about people, the social system. If Elon Musk is right about his future factory, the significance of the people side will be minimalized. I doubt it, and so far, the stumbling of his manufacturing facility is not supporting his hypothesis.
John Shook of Lean Enterprise Institute recently said the following:
"The tools required to run a great factory aren't merely math and engineering, but psychology and sociology. Social psychology and neuroscience. Organizational development and system dynamics – with "system" referring to not only the technical side, which Elon and team will figure out, but also the much more complex social side. The social side is difficult in its own right – add the technical complexity of orchestrating the operational execution and timing involved in gathering and assembly thousands of parts that arrive at exactly the right place at the right time in perfect (down to the minute) precision for thousands of humans to choreograph themselves to the precise (down to the second) rhythm and you've got a social-technical challenge of epic proportions."
Jeffrey Liker, author of the Toyota Way and other essential books on lean recently wrote…
"In my view Elon Musk has adopted an untenable mechanistic philosophy that will need to change if Tesla is to be successful as a mass producer of vehicles, no matter how well designed.  He will need to discover basic values that underlie operational excellence like developing people, building culture, continuous improvement, visual management, and work teams owning their processes.  In short, he will need to learn about, perhaps the hard way, lean management. Sitting back and counting your money while marveling at digital systems humming along sounds like a dream vision, but it is not reality.  Mass production is hard work."
It should be remembered that Roger Smith at General Motors invested billions of dollars in the dream of a highly automated plant and it resulted in failure. Until Musk or someone else demonstrates the viability of super automated plants, the people skills, the knowledge of lean management, team leadership, problem-solving, and continuous improvement, will remain the proven basis for success.
Lean Leadership – A Response to Challenge
Leadership is the courageous and creative response to challenge. Lean leadership is no different. No significant change happens in the absence of challenge. There is no Martin Luther King in the absence of racism; no Churchill absent fascism; and, no Lincoln absent slavery. One could argue that all progress is in the dance to the rhythm of challenge-and-response.
In business the challenge is different. It is the challenge of innovation – new technologies, new markets, and new economic conditions. There is no Henry Ford absent the challenge presented by the internal combustion engine; no Bill Gates absent the microprocessor; and no Mark Zuckerberg absent the internet. Lean leadership is the response to the challenge of innovative methods and the potential of human creativity. The task of the lean leader is to define the strategic challenge for his or her organization and present that challenge in a way that creates a response that results in significant change and continuous improvement.
It would be wonderful to believe that simply sharing knowledge of a better way would result in the adoption of that better way. If only we were rational beings. But after assisting dozens of companies with their efforts to institute a lean culture, it is very obvious that the success of those efforts is directly linked to the quality and constancy of lean leadership. Lean Leadership and Lean Culture  require very specific actions on the part of leaders and I do not think those actions of been well articulated in previous books and articles. I have attempted to define these actions in my new course on Lean Leadership and Lean Culture and I want to summarize them here.
To Challenge and to Serve
Leaders define the mountain to be climbed, the worthy purpose that will motivate followers to sacrifice. They then recognize the task to serve the needs of their followers by enabling them, providing the tools, the guidance, the skills, the path toward success, and finally, celebrating that success. Challenging employees and then serving them may seem to be almost contradictory functions, but they are both necessary sides to the same coin.
The Challenge is Strategy
The challenge is strategy… it is where we are going and why we are going there, and it is only the leaders of the organization who can set that strategy and establish the challenge. It is the primary function of leadership in every organization, whether an army or an entrepreneurial start-up company. Too many leaders set their sights too low. They are too practical. They establish a target, a challenge, of improving operating efficiency by ten percent. Or, reducing cycle time by twenty percent. Do those goals inspire you? Do you seriously think they inspire employees to sacrifice for "the cause?" I doubt it. Because we are too often punished for the failure to achieve goals we reduce our vision to that which is easily understood and achieved. Toyota's global vision states:
"Toyota will lead the way to the future of mobility, enriching lives around the world with the safest and most responsible ways of moving people.
Through our commitment to quality, constant innovation and respect for the planet, we aim to exceed expectations and be rewarded with a smile."
That's big! Toyota isn't in the car business, they are in the mobility business, and their job is to enrich lives around the world! From that challenge may flow ten thousand more specific challenges, targets or goals, that lead to the fulfillment of the big vision. But, you must start with a motivating challenge that gives people dignity and purpose. That is the root cause of motivation and change.
Lean Leaders are "Servant Leaders"
I have identified six specific functions of lean leaders, each of which are essential to implementing lean principles in an organization. Here is a quick overview of those six functions. (These are explained in some detail in my course.)
1. Develop External/Business Strategy
Business strategy is a response to external threats and opportunities, both employing and then developing internal capabilities. Lean leadership and culture is not divorced from business strategy, but is rather a means of developing the internal capabilities that will enable the organization to execute business strategy.
2. Develop Internal Culture Strategy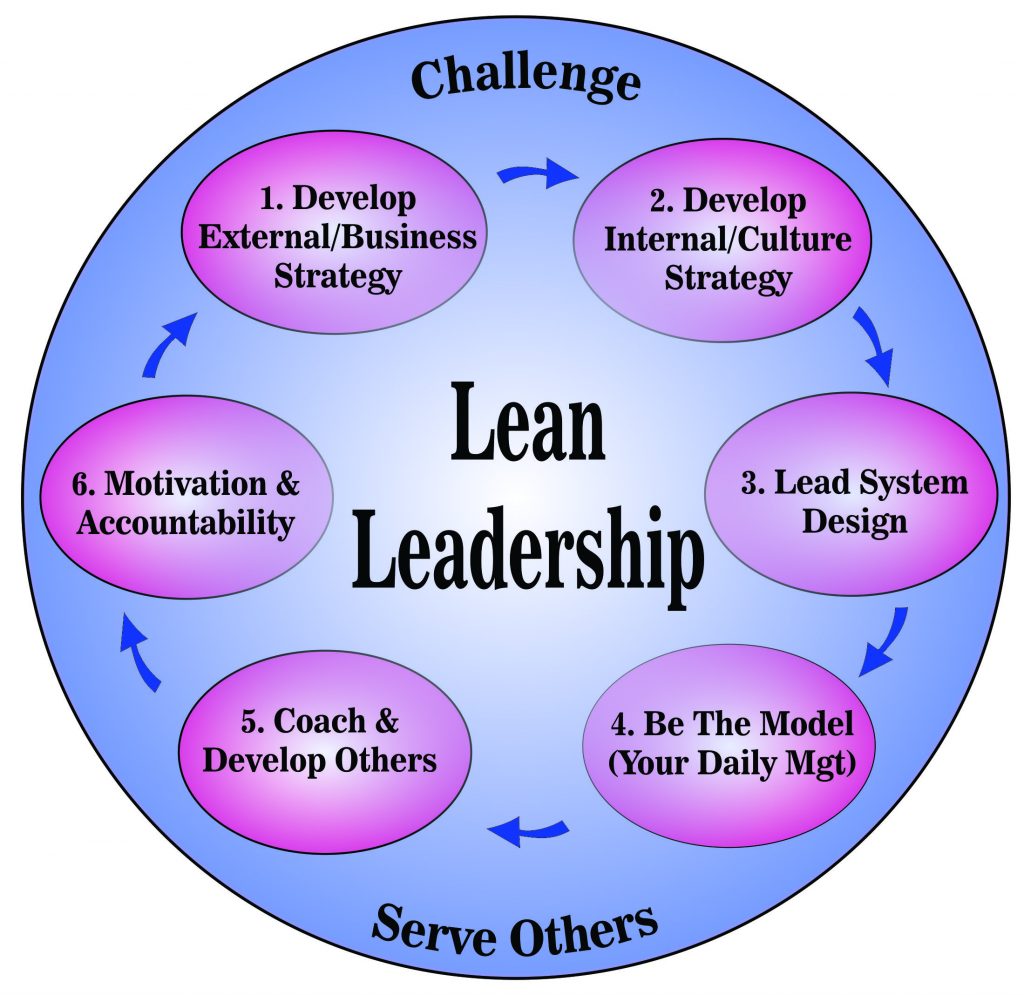 External strategy defines where we are going. Internal strategy defines what we need to get there. Strategy is only achieved if there is alignment of internal culture and capabilities to the strategy. Peter Drucker is reported to have said that "Culture eats strategy for breakfast." The point is that you can't achieve a business strategy if you don't have the necessary culture and capabilities. The absence of this alignment creates friction, and friction is waste… not lean!
3. Lead System Design
Too many lean consultants think you can simply go into an organization and start doing PDCA problem solving at the first level and create a lean culture. This is too easy! Too often the barriers that create interruptions and waste in the process are determined at a higher level. They are both social and technical. They are the relationships with suppliers, the layout of the plant, the existence of warehouses and staffs. They are layers of management that suck decision up and rob employees of dignity and the ability to solve problems. In short, they are system problems that require design thinking! The lean leader recognizes the need for systems and structure to align with strategy and creates a process of redesign.
4. Be the Model
Leadership is modeling the behavior desired of others. If you have sat in a meeting of senior managers at Honda or Toyota, as I have, you would witness the practice of effective team management, problem-solving and consensus reaching. You would also witness leaders asking if they have "been on the spot" (the Gemba) to directly observe the work and listen to the "world's greatest experts." In other words, they are practicing Respect for People and Continuous Improvement, the two core principles of lean culture. Your ability to institute culture change is directly related to your ability to be a model of that culture.
5. Coach & Develop Others
A leader is a coach. A leader knows that his or her job is to develop the capacity of others. The greater the capacity of others the easier is the job of the leader. At Toyota every manager has a coach, an internal coach, a peer. I developed my course on Coaching Leaders for Continuous Improvement to aid in the development of this internal capacity. Continuous improvement is not only about the production line. It is about personal development, the desire to personally improve our own skills. This is the job of a coach and we need to develop a culture of coaching others, which is a form of service to others.
6. Motivation and Accountability
In our desire to develop a positive culture it may be easy to put aside the reality that it is the manager's job to hold others accountable. Even in an environment of self-directed teams, the manager is responsible for assuring that those teams are accountable for performance. Toyota practices "Four-to-One" which is the practice of four positive comments to one negative. Research in the 1960's by Dr. Ogden Lindsley demonstrated that the optimum learning environment sees more positive than negative interactions. The actual ratio he found was 3.57 to one. While the exact number is not important, it is important that we recognize that motivation to continuously improve must be reinforced positively.
Each of these six components of lean leadership deserve serious study and practice by the leader or manager wishing to implement lean management and culture. I have tried to aid that study with my Udemy course on Lean Leadership and Lean Culture.
High Value Lean Leadership Training
For the past several months I have been working to fill what I believe has been a gap in the available training in Lean Culture, Lean Leadership and Change Management. I have covered some aspects of lean in my Team Leadership course, but not provided a thorough description of lean culture or the critical role of leaders in leading a change process. There has also not been a course priced economically enough to enable companies to provide the training to large numbers of employees. This is the purpose of my latest course on Lean Culture, Lean Leadership and Change Management, priced at only $12.99 for six and a half hours of training that includes two complete books (each worth more than that price), thirteen activities and case studies.
Since I was involved at Honda when they first came to the U.S., I have been engaged with dozens of clients implementing lean or Toyota Production System. For me, lean is not an academic exercise. I have been hands on in both manufacturing and health care creating significant change in the work processes and the culture. I have the published case studies to prove it. I know what it takes because I have done it, repeatedly! I also know the important role that leaders must play for change to succeed. I have spelled that out in this course.
The House of Lean
To illustrate what I believe are the critical components of lean, both the social and technical systems, I have created this "house of lean" and the course covers each of these components. If you take this course you will know lean culture and leadership.
There are six major sections of the course.
The first section covers the process of knowledge integration upon which lean is founded; the work of Shigeo Shingo and the die press, quick change over process, a trip to Honda to understand the basic components of both social and technical systems.
The second section covers an overview of the components of lean.
The third section covers the principles and practices of lean culture (elimination of waste, the scientific method, kaizen, heijunka, etc.)
The fourth section is focused on lean leadership and describes what lean leaders do to model the behavior that reinforces continuous improvement. I have framed this in terms of the leadership responsibility to define the strategic challenge toward which everyone  should be working, and to serve the needs of employees in achieving continuous improvement toward that strategy.
The fifth section describes the process of designing the house of lean in your organization, the systems and structures upon which a lean culture can be built.
And,  the final section describes the habits of daily management and continuous improvement, what I have called the Team Kata.
I am confident that this is my best course yet and will serve as a good introduction to lean for all of your employees. Just click on this link and it will take you to the course.